Enjoy Your Drive: The Hyundai Palisade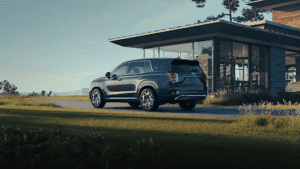 Known for its sophistication and admired for its ultra-stylish build both inside and out, the Hyundai Palisade is by far one of the best upscale SUVs on the market. At Kendall Hyundai in Miami, we take pride in delivering only the highest-quality vehicles to our community. The Hyundai Palisade is an excellent addition to our innovative collection that will bring peace, comfort, and safety to the road.
The Palisade is the complete package. It is designed to merge everything from the capability for connectivity to ample space. In fact, Hyundai Palisade has earned a reputation as the 2020 IIHS Top Safety Pick+. 
If you are still curious about the powerful capabilities of the Hyundai Palisade, this article details some of the best features of this elegant SUV. 
Interior Design
The cabin of the Palisade exudes a pure mix of modern meets elegance. Once you step inside, you are immediately welcomed with a spacious cabin that seats up to eight people. No matter which seat you find yourself in, there is a stellar point of view for the journey ahead.
The seats are fitted with quilted Nappa leather, creating the ultimate look of luxury. With the Palisade Calligraphy model, the design reaches new heights. From intricate design details to lighting enhancements, get ready to elevate your riding experience in style.
Smart Technology
The Palisade is built with power and passion. With a focus on convenience, the functionality elements behind the wheel are critical. To make your trip better than ever, the Hyundai Palisade is designed to make staying connected look and feel good. Here are a few high-tech features the Palisade brings to the table.
Driver Talk In-Car intercom.

Say goodbye to the days of shouting to be heard over the intercom. Using the Palisade's smart audio system, you can now speak directly to second and third row passengers with ease.

High-res 10.25-inch touchscreen and fully digital 12.3 instrument cluster.

Stay connected front and center with touch screen capabilities at your fingertips – quite literally. 

Wireless Phone Charging.

Live your best life with a cordless experience when it comes to charging on the go in the Palisade. Only Qi-compatible devices can use the charging pad. In addition, the second and third row seats also have charging capabilities with built-in USB ports.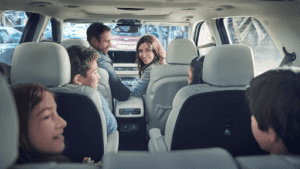 Daring Capabilities
The Palisade introduces opportunities for endless adventure with more than just a pretty face. It can be flexible enough to elevate your lifestyle when it is time for action, including those spontaneous trips. Here are a few adventurous capabilities the Palisade is equipped with. 
Hands-free Smart Liftgate.

The Palisade is engineered to be smart, making your life a little easier. With the automatic hands-free liftgate, you can load and unload with ease. The liftgate senses your approach and automatically does the heavy lifting, so you do not have to.

Impressive Towing Power.

The Palisade presents promising towing strength that can handle up to 5,000 lbs. Whether you are hauling trailers or other vehicles, the Palisade features a heavy-duty transmission oil cooler. To top it off, it has trailer sway control for the most optimal towing experience.
Smart Safety and Security Features
Engineered with precision, the Palisade provides supreme safety and security features so that you can focus on the road ahead, knowing all passengers are safe. Here are a few of the innovative safety and security features the Palisade has to offer.
Smart Cruise Control (SCC) with Stop & Go.

If you are using cruise control, the Palisade uses a built-in radar system to help maintain a safe distance from the vehicle in front of you. This feature turns off the second your speed goes under six mph and turns back on within three seconds when the vehicle displays movement.

Blind-Spot Collision-Avoidance Assist (BCA).

When a vehicle enters one of your blind spots, the Palisade immediately detects the movement. If your turn signal is on while a vehicle is in your blind spot, the Palisade automatically applies light braking before you change lanes. 

Driver Attention Warning (DAW).

The Palisade is smart enough to recognize your recurring driving patterns to check for drowsiness or inattentive driving. This feature helps prevent potential accidents, ensuring your safety and the safety of those around you. An alert will sound if it detects abnormal activity, followed by a warning message on the instrument panel. 
About Us
If you're searching for one of the latest and greatest SUVs, you have come to the right place. Our friendly team at Kendall Hyundai will help set you up with the right vehicle to get you from point A to point B safely and in style. 
Visit us TODAY on Dixie Highway and take an exclusive test drive. Get a first-hand experience of what the Hyundai Palisade has to offer.